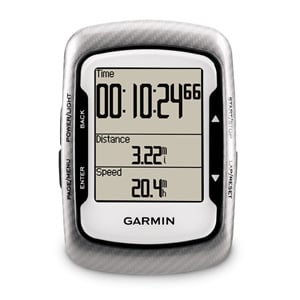 Recommendation: Definite Buy
This is the Garmin Edge 500 and I'm super attached to this thing mostly because it works.  I bought this in December last year and it's reasonably priced.  DC Rainmaker has this crazy long review.
I use this computer for cycling and running though it's optimized for cycling.  I have a heart rate monitor for my heart rate and it comes with a cadence monitor to monitor rotations per minute (RPMs) or my legs around the bike crank.  It's a Garmin so there's a GPS so it measures distance and elevation.  It's also an ANT+ product and so it works with other ANT+ products like power meters and such.
The computer also comes with Garmin training center software so I can download all the information from the Edge 500 onto my computer (Mac OS X but works on Windows too).  From there, I upload the data to WorkoutLog.com which records all my workouts.
From a technology standpoint, it's pretty freaking cool — a total home run product.  It works, it's minimalist by default, configurable to your needs, easy to get data in and out.  Even the battery power is pretty good, lasted me a whole Ironman race (well the bike and the run part…and I took a long time).
It's a piece of technology that will actually tell you about yourself, what you did, and could actually make you faster, stronger, better because you have data to measure against.